Fly Ash Brick Machine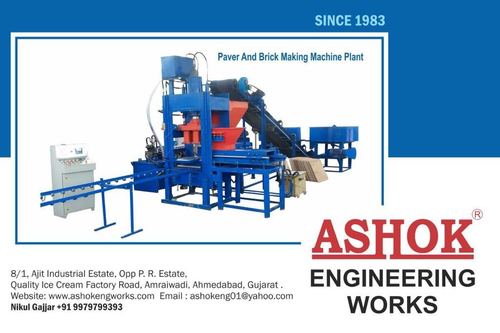 Fly Ash Brick Machine
Product Description
We have uniquely positioned ourselves as a dependable firm, engaged in manufacturing and supplying advance range of Automatic Fly Ash Brick Machine / Fly Ash Brick Making Machine . This machine is technologically sound and versatile. Suitable for manufacturing fly-ash bricks of different sizes, these machines are known for efficiency and ease of use. Designed keeping safety standards in mind, this Fly Ash Brick Machine is equipped with pan mixer, brick machine, control panel and belt conveyor.
Key Features:

Optimum Production
Fast & Safe Operations
Heavy Duty Construction
Power Saving
Excellent Pressure Distribution
Integrated Control Function
Semi Auto / Fully Auto Function
Hi tech improved Design
Long Lasting international standard equipments
Best quality hydraulic and electrical circuit
Heavy Duty Body
Heavy Duty Pressing Plate
Superior pressure distribution
Build in cooling system
Best in Safety
Speedy operations
Inbuilt control function

Superior pressure distribution
Technical Specification:
System Hydraulic With Electric Panel (Fully Automatic)
Capacity 1000/1500 Bricks/ Per Hour (Approx.)
Press Capacity 30 To 50 Ton With Vibrator
Bricks Size 230mm X 110mm X 75mm
Mixing & Feeding Pan Mixer With Conveyor
Raw Material Fly Ash, Limsludge , Gypsum, Gagger Sand Or Quality Wastage Etc.
Labours 8 Unskilled And 1 Skilled
Power 30 Hp 3 Phase
How it Works
Fly Ash Brick Machine is a easily operating machine which compresses the fly ash mix into the desired brick size. This machine produces standard brick size that is 230mm X 110mm X 75mm.
The Fly Ash Brick Machines are used to make fly ash bricks of best quality with an advanced pressure. These plants are available in four models so as to to make the production of 1000 to 2500 bricks per hour.
The machine-controlled Fly Ash Bricks machines we offer consist many functional equipments, some of which are mentioned below:
1. Pan Mixer : The plants are well equipped with Pan Mixers of required types and sizes, the batch capacity of these mixers are able to mix many raw materials like fly ash, sand, cement, water etc homogeneously. Bottoms and the sidewalls of these Pan Mixers are fabricated with optimal quality M S Plates with needed thickness. The designs are very much robust & reliable and permit the precise & smooth running of mixers, without any trouble, breakdowns or disruptions.
The Mixers are equipped with best quality electric motors and imported planetary gear boxes. The homogeneous amalgamates are insured by lump crushing rollers and mixing arms. The batch capacity of these mixers is reckoned on the production space of Fly Ash Bricks Machines. The hand operated discharge gates are fitted with these modular plants, these hydraulic discharge gates are optional too.

2. Mixed Material Belt Conveyor : Belt Conveyors are given to move the assimilated materials from pan mixers to the hoppers of hydraulic bricks pressess. The main structure parts and idler roller frames are formulated with top quality anatomical and structural materials. Moving parts of these conveyors such as Driving Rollers, Idlers Rollers, Driven Rollers etc are furnished with great workmanship & optimal quality pedestals and bearings. The Rubber Conveyor Belts we offer are supplied with M24 grade, 3 Ply ratings that is never-ending.

3. Hydraulic Bricks Press : Hydraulic Bricks Presses are made with window type plates of adequate thickness so as to repel the excessive pressure practiced on the bricks. Bricks Presses are conceived with the pressure of about 6 to 8 MT on each brick so as to make it much strong with easy treatments. The Bricks Presses run in an automatic manner by the modes of Hydraulic Power Packs and PLC based Control Panels. The Prefilled technology is furnished to secure the reliable and speedy work even in the long working hours. The Hydraulic Cylinders are made with optimum quality materials, dedicated workmanship & mechanical accuracy. To ensure the fast filling of raw materials in the mold cavities, the special kind of Feeder Fans are provided. The provided Proximity Sensors are utilized in the completion of auto cycle.
4. Hydraulic Power Pack : The Hydraulic Power packs we offer come in the needed sump capacity & other hydraulic equipments named as Hydraulic Pumps, Pressure Control Valves, Direction Control Valves, Oil Level Indicators, Pressure Gauges etc. We offer Hydraulic Oil with necessitated quantity and pressure in compliance with the completion of the pressing cycle. Most of the equipments used in the power making are manufactured by Polyhydron and YUKEN.

5. Control Panel : The Control Panels we provide are Programmable Logic Controller (PLC) based and are supplied to operate the plants. These panels come with three modes of operation such as manual, automatic and semi automatic. These modes can be selected in accordance with the type of operation with the machines. The Control Panels are integrated with best quality electrical instruments & fitments like Display Modules, PLC, Contactors, Push Buttons, Over Load Relays, Ampere & Volt Meters etc.

Trade Information
10-15 Days

Standard Packing
Australia, Eastern Europe, Africa, Central America, Middle East, South America, Western Europe, Asia, North America

All India