Hydraulic Power Pack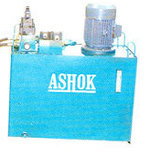 Hydraulic Power Pack
Product Description
We are manufacturing and exporting an advanced Hydraulic Power Pack / Hydraulic Power Unit, which is perfect for various industrial, mobile and marine applications. Easy to use, this product shows a right blend of technology, design and heavy-duty. Manufactured by using quality material and advance machines, our offered Hydraulic Power Pack is suited for a wide range of hydraulic works. Additionally, we are offering our range at market leading price.
Features:
Long lasting performance

Easy to install
Superior working speed & pressure output
Key Features:
Smooth Operations
Long Performance Life
Easy Installation
Excellent Working Speed & Pressure Output
The
Hydraulic Power Packs
offered by us are enclosed with oil tanks, the base fixtures of which support vertical or horizontal flanges & electrical motor couples through gear couplings to vane pumps, piston pumps or gear pumps, influenced by the capacity and pressure. The intake sides of the pumps are equipped with suction strainers, which strain the particles in micron size while the emission sides of the pumps are attached to manifold blocks.
The directional control valves are installed on the different faces of the manifold blocks. The control valves are appropriately inter- connected in the manifold blocks through the drill passages so as to to abolish the inter connected piping. In this way, attaining compaction through separating the bolts can lead to the reduction of the noise level and provide effortless accessibility for maintenance.
Oil levels of the tanks are shown by oil level indicators, integrated with temperature control gauges, which are fixed in the front topsides of the tanks. The drainage system is provided in the bottom sides of the tanks. Air breathers are given at the cover plates, so as to fill the oil in the tanks. The return line filters are attached behind the manifold blocks so as to refine the used oil and return it to the tanks. The hydraulic elements and other critical high pressure pumps belong to the well famed companies of India and world such as AUTOS, BOSCH-REXROTH, POLYHYDRON, VICKERS, YUKEN, SUFFON, STUFF, HYDROLINE etc. The in-use electrical switch gear parts also belong to the market leaders such as L & T and SIEMENS.
Special Purpose Machines
We also offer Hydraulic Rubber Molding presses, Hydraulic Presses, Hydraulic paper cutting Machines etc, and design all these machines in compliance with our customers' specific demands.
Earth Moving Machinery
We offer Hydraulic cylinders for all kinds of Earth moving machinery particularly Backhoes, Dozers, Dumpers, Front End Loaders, Garbage handling machines, Tippers, Rock drill machines, Sugar cane cutting machines, Bore well machines etc. We have rendered thousands of Hydraulic Cylinders to domestic and international markets for their usages in the manufacturing of earth-moving equipments.
Hydraulic equipments for Industries
We have attained a sound goodwill to fulfill the requirements of consumers in various industries such as Boilers, Chemicals Engineering Projects, Textile, Sugar, Welding & Plastics, Pharmaceuticals etc. With our range of products we also contribute in the industries of Thermal Power Station Retainers, Railways, Public Sectors, Steel Plants etc.

Hydraulic equipments and accessories for the Market
We keep systematic stock of our offered Hydraulic equipments such as Valves, Hydro Motors, Breathers, Pumps, Level indicators, Bell Housing, Honed Tubes, Seals, Gear Couplings, Mounting Brackets, Harden Bushes, Pneumatic Accessories, Swill Bearings, Pressure gauges, Filters, Hose pipes, Strainers, Tanks Bucket teeth, Hard chrome plated Rods etc. Some particular items we deal in are duly imported by us, these products are: bearings, seals, mobile valves and honed tubes.
Trade Information
10-15 Days

Standard Packing
Australia, Eastern Europe, Western Europe, Africa, Middle East, South America, Asia, Central America, North America

All India